Contact Info

insights@ccarbon.info

+1 650 331 1931
cCarbon (cKinetics)
19925 Stevens Creek Blvd, Ste 110
Cupertino, California-95014
---
About cCarbon (formerly CaliforniaCarbon)
cCarbon (pronounced 'see-carbon') was launched in 2012 as CaliforniaCarbon, catering initially to the WCI market. Since then, we have grown to provide comprehensive coverage across compliance carbon markets across North American, as well as the global Voluntary Offsets markets. We provide business intelligence, analytics and forecasts for our clients.
cCarbon is a division of cKinetics, a global Sustainability specialist, providing solutions for investors, businesses and policy makers.
We track:
Cap and Trade Carbon markets

Western Climate Initiative (California and Quebec)
Regional Greenhouse Gas Initiative (RGGI)
Nova Scotia
Canada Federal OBPS and Regional Programs
Washington Cap and Invest
Alberta Technology Innovation and Emissions Reduction (TIER) Regulation
Clean Fuels Standards

California Low Carbon Fuel Standard
Oregon Clean Fuel Program
British Columbia Low Carbon Fuel Standard
Canada Clean Fuels Standard
Canada Clean Fuels Regulation
Washington Clean Fuels Program
The Renewable Fuels Standard & RINS
Offsets

Global Voluntary Offsets
Compliance Offsets for WCI (CCOs)
Canada Federal GHG Offset System
Our offering focuses on forecasts of emissions, net demand-supply, and pricing across our markets. Our content offering includes regular analytical reviews, regulatory tracking and evaluation, deep-dive InSight reports, and expert webinars.
---
CarbonOutlook™ Model
Modeling emissions and prices (near-term and long-term)
We have our proprietary models that consume information from a variety of data repositories to generate near and long-term forecast, for emissions as well as carbon prices. Our models cover most North American carbon market jurisdictions.
Short term models
Our near term analysis in our weekly and monthly commentaries capture (a) Macroeconomic data, (b) Secondary market data, (c) Corporate and entity data, as well as (d) output from our proprietary algorithms. We use the models to forecast upto 1 year out. Our near term emissions forecasts have had over 99% accuracy for the past three years.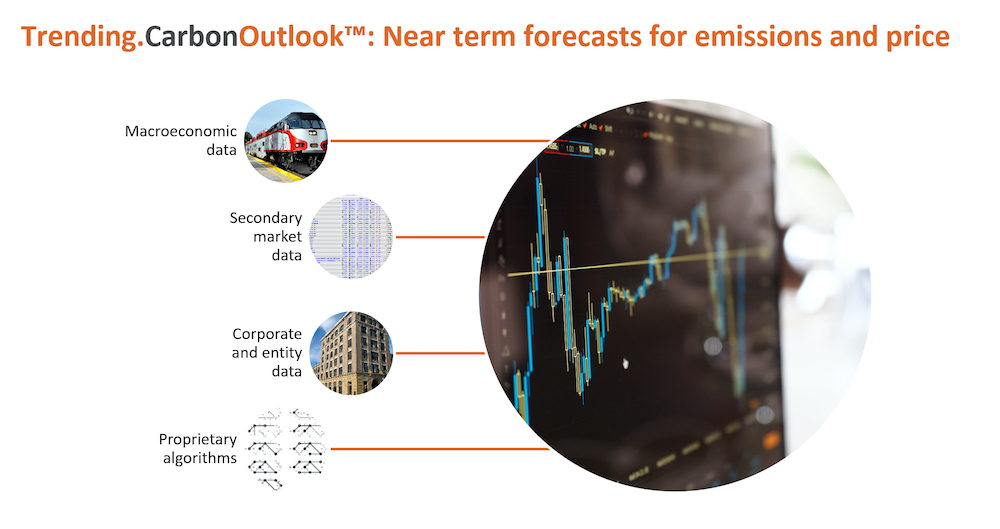 Long term models
The long term models generate outlook for 2030 and have a quarterly resolution. They can also create scenarios for 2040 and 2050. The models capture the interplay between different carbon markets; and is unique in that aspect. Our Cap and Trade model has over 200 variables that can be fine-tuned to construct a scenario.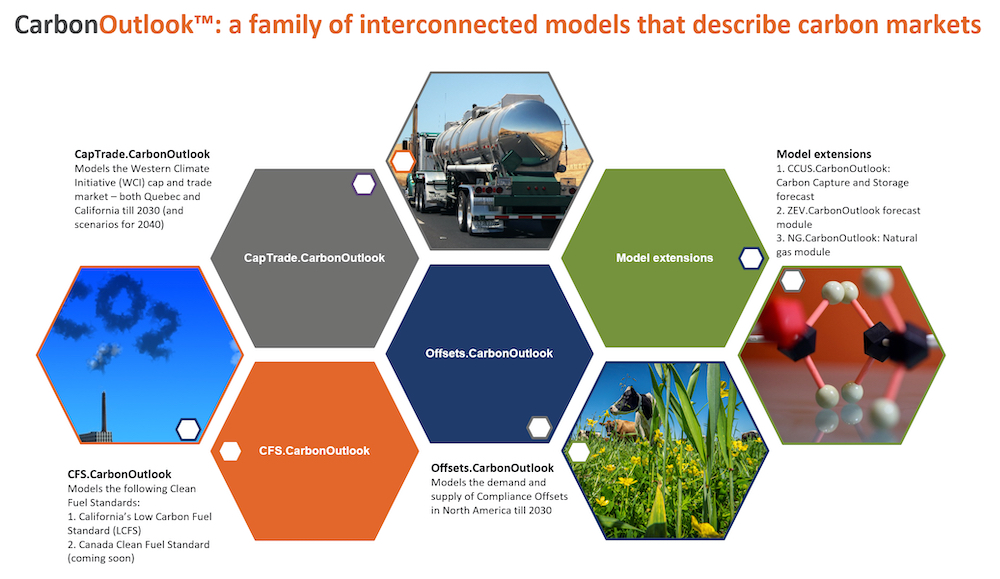 Learn how to use our platform
---
Carbon market analysts

Harry Horner is the Strategy & Insights Lead at cCarbon.info, he oversees the evolution of CC.info's products, is the editor-in-chief for our Insight Reports, and helps guide the team into newer markets and opportunities. He has been a carbon market nerd since 2015.

Harry graduated from Oxford University in History & Economics, and has also worked on ML forecasting in Renewable Energy markets, as well as his carbon market experience. He's glad to be focused on the biggest problem facing our global generation. Harry is a writer of books and podcasts on all topics under the sun, a recovering world cyclist, and a soon-to-be Portuguese farmer!

Harry Horner
Abhinay is Senior Market Intelligence Specialist (Data Insights) in our cCarbon Practice, based out of our Delhi office.

Abhinay holds a Master's degree in Oil & Gas Management from the University of Petroleum & Energy Studies with keen interest in green energy and a rich experience in the market research industry, Abhinay has worked on a variety of consulting assignments with multinational firms such as GlobalData, Eni Middle East B.V., to name a few. In his leisure time, Abhinay enjoys watching sports, cooking and traveling

Abhinay Chauhan
Rohit is an Analyst at cCarbon.info, specializing in the Clean Fuels Markets. He helps in analyzing carbon market interconnectedness for our Clean Fuels Products

Rohit graduated from BITS Pilani with Electrical and Electronics Engineering minoring in Finance. Passionate about analyzing data and generating actionable insights, he has versatile experience spanning from Trade Analysis to Customer Analytics. Off work you can find him grooving to 90's music or immersed in a historical fiction novel.

Rohit Sai Janga

Craig Rocha is a Cap-and-Trade market analyst, he has a research background in energy, and so focuses on the RGGI market, as well as the power sector in the WCI market.

Craig holds a MSc in energy economics from Edinburgh Business School and graduated form BITS Pilani in mechanical engineering. He was a member of the Hyperloop India team representing India at the SpaceX Hyperloop competition. He loves playing squash, was his university captain, and will even switch over for the odd game of tennis.

Craig Rocha
Ujjwal is a junior analyst on the Clean Fuels Markets, he supports our Clean Fuels Product, and helps in the research and presentation of Fuel Insight Reports.

A post-graduate from Madras School Of Economics, he is passionate on all things involving business, economics, and politics. Outside of work, he is a football aficionado, loves to sing, watch documentaries, play table tennis, travel and trek. Being from the mountains of Nepal, summiting the Everest is at the top of his bucket list.

Ujjwal
Megha is a Junior Analyst at CaliforniaCarbon.info.

She has a Post Graduate Diploma in Data Science and Business Analytics from University of Texas at Austin. Her passion for sustainability and the environment inspired her to pursue a career with an impact and she is keen to make a difference through her data analysis skills. In her leisure time, she enjoys reading and exploring new cuisines.

Megha Jha
Sarfaraz Hussain is a Clean Fuels market Junior analyst, focusing on the research, analysis, and reporting for the Clean Fuels market across North America.

He graduated from IIT Kharagpur with a Masters in Chemical Engineering, he is a technology and business enthusiast who always want to dig deep into how things work. He does not believe in Planet B. He thinks the only way Humanity is going to survive is by saving planet Earth and that will be through adapting Sustainability in every sector of society and reaching the Net Zero goal by 2050.

He likes playing Cricket on Sundays, cooking occasionally, traveling like a Nomad, and jumping into new genres of books, music, and movies.

Sarfaraz Hussain
---
Client insights team

Maria Fernanda (Mafer) is from Guatemala and has worked for more than 10 years in sustainability.

She holds a degree in Chemical Engineering, a Masters in Sustainable Energy Engineering from KTH (Stockholm) and UPC (Barcelona), and an MBA from Hult International Business School (London). Mafer has worked previously for cKinetics 8 years ago in a project to provide access to electricity in rural communities in India. Then she worked in Central America leading the new business and innovation department of a renewable energy power producer. Now she is back in cCarbon as Clients Insights Manager and Head of Partnerships. She loves to travel, long distance running and yoga.

Maria Fernanda
Sahil is an associate in the client's insights team at cCarbon.info.

Sahil is a PhD in Renewable energy and efficiency from NIT Kurukshetra. He was inclined towards Renewable energy and sustainability since his engineering days. Besides his work he likes to travel and play badminton.

Sahil Bajaj
Gabe works with cCarbon as a client associate building insights and addressing product inquiries.

Gabe grew up in California and has worked and lived across the United States. He received his B.A. in International Relations from the New School in New York City. After working for nearly a decade as an outdoor guide and environmental educator, Gabe transitioned to working in environmental services in 2020. He has experience in the water utility industry as a treatment and distribution operator, as well as building partnerships between communities and state regulators, and planning water system improvement projects across rural northern California. Gabe currently lives in Valencia, Spain and continues to pursue his passion for outdoor adventure and ecology at every available opportunity.

Gabriel Stoltzfus
---
Mentors and Advisors

Pawan Mehra is an Advisor at California Carbon and Managing Director of its parent entity cKinetics, where he leads the work on climate finance and carbon markets analytics. He has been the architect of several cross-industry economic models and developed long range forecasts that have informed strategies and plans of investors, policy makers and technology developers.

Pawan Mehra
Jon Costantino was the original Climate Change Planning Manager for the California Air Resources Board's Office of Climate Change and he oversaw the first publication of the AB 32 Scoping Plan in 2008.

As AB 32 climate change manager he saw the program through its infancy. In that role, he developed internationally followed policies and implemented programs with billion-dollar implications for California's largest industries. Jon was also the lead legislative analyst at ARB, where he made technical and policy recommendations on both state and federal legislation. During his years covering California's Capitol, Jon gained rare insights about California's biggest industries and most powerful stakeholders, including water, agriculture, construction, energy and all aspects of transportation fuels.

Jon Costantino
Michael Carter is Mentor and Advisor to Climate Connect Limited. Based in Colorado, USA, his work has included market and industry analysis on a range of industry topics including commodity pricing, wholesale pricing analysis and forecasting, and retail cost analysis. Michael was, till recently, head of Energy at SNL Financial, leading a team of several hundred analysts providing information to US markets. SNL was recently acquired by McGraw Hill. Prior to SNL, he worked with Duff & Phelps, Platts and Financial Times. Michael holds a Master's degree from Colorado School of Mines and Bachelor's degree in Geology from The Australian National University.

For cCarbon.info, Michael provides strategic guidance on how to develop forecasts, publications and analytics benchmarked against global information industry standards. With vast experience in RGGI and EUETS markets, he also suggests ideas and concepts that could be adapted for newly formed carbon markets such as California, Quebec and China

Michael Carter
Nitin Tanwar  is the Founder and CEO of Climate Connect Ltd. Nitin can be found brainstorming with the team on strategic directions for cCarbon.info, engaged in raising funds for operations, and aiding in marketing. As CEO of the parent company Climate Connect, Nitin formulates the executive strategy of all the products within the stable. Before founding Climate Connect, Nitin was a Carbon Associate with commodities trading giant Cargill.

He holds a Master's in Engineering for Sustainable Development from the University of Cambridge in the United Kingdom, a Certificate in Sustainability from ETH Zurich, and a Bachelor's in Civil Engineering from Punjab Engineering College, India. He is a regular speaker at international conferences and was one of the youngest authors to publish in Elsevier's Energy Policy journal. To escape from the daily routine, he enjoys trekking and one day hopes to make his way up to Machu Pichu in the Andes!

Nitin Tanwar
Rahul Rana is the ex-Head of Marketing and Business Development at cCarbon.info. He helped define the product in its earlier years with Climate Connect Technologies.

As an advisor he aids with his vast experience on the products, and it's connected markets. Rahul has completed his MSc in Climate Sciences and Policy Studies at The Energy and Resources Institute in Delhi, India. He spends his free time travelling, reading classics, and playing music on his guitar.

Rahul Rana
Arpit is an industry expert with a wide-ranging experience in climate policy and environmental markets. Over the last decade, he has held a variety of roles focusing on designing public policy, consulting, project management, business development, and media planning in government, private, and non-profit organizations. Until recently, Arpit was leading the policy and regulatory development process of California's Low Carbon Fuel Standard (LCFS). He is currently part of Amazon's net-zero team which is driving the sustainability efforts to help meet the company's Climate Pledge and Shipment Zero goals. Arpit holds a Masters in Climate and Society from Columbia University and a Bachelors in Energy Engineering from NIT Bhopal.

Arpit Soni

Kevin Poloncarz is a partner in Covington's San Francisco office and represents clients on policy, regulatory, litigation, commercial, and enforcement matters involving climate change and clean energy. An authority on carbon pricing, he has been deeply involved in the development of regulations to reduce greenhouse gas emissions under the federal Clean Air Act and in state efforts to address climate change. He is a member of the boards of directors of the Environmental Law Institute and the Center for Applied Environmental Law and Policy and a Fellow of the American College of Environmental Lawyers.

Kevin Poloncarz
Tom Tuchmann  is Trained as a professional forester, Tom provides US Forest Capital's range of advisory services and coordinates the efforts of our strategic partners who offer specialized expertise on a project basis. Prior to founding US Forest Capital, Tom was Western Director and Special Assistant to the U.S. Secretary of Agriculture. During his tenure, he successfully directed negotiations and the implementation of the $480 million Headwaters Forest Agreement. He also was charged with designing and managing a Presidential Forum that resulted in the $50 million conservation management plan for Lake Tahoe.

Tom graduated with forestry degrees from Northern Arizona University and Pennsylvania State University and has served as Adjunct Professor at the Lewis and Clark School of Law.

Tom Tuchmann
Dr. Sabine Joseph is a Data Science and Machine Learning advisor to California Carbon. Before consulting companies through her own business, she was involved with the delivery of commercial AI solutions across the entire project life cycle at Microsoft and Accenture. She's also passionate about merging technical solutions with design methods and trains data science professionals.

Sabine pursued her undergraduate studies in the Netherlands and Canada and holds postgraduate degrees from leading universities in London and Paris, including a PhD in Cognitive Neuroscience from University College London. She currently enjoys a simple lifestyle in rural Portugal with gardening, surfing, arts and crafts, as well as solving intellectual challenges.

Dr. Sabine Joseph
Malini has a vast Experience as Head of Strategy & Operations with a demonstrated history of working in the information services industry.

She is a Strong product & services management professional skilled at Retention Analytics and Strategies, Client Engagement, Go-to-market Strategy, IT Strategy, Product Innovation, Advanced Analytics & Data Science, and Direct Marketing.

Malini Vittal
Lisa DeMarco is a Senior Partner and CEO of Resilient LLP, with over two decades of experience in law, regulation, policy, and advocacy relating to energy and climate change. Ms. DeMarco was previously a partner at Macleod Dixon LLP from 2002 to 2012, partner at Norton Rose Canada LLP from 2012 to 2013 and partner at Norton Rose Fulbright LLP from 2013 to 2014. She represents several governments and leading energy companies in a wide variety of natural gas, electricity, pipeline and energy storage matters before various regulatory agencies, including the OEB and the National Energy Board. She has been an adjunct professor at Osgoode Hall Law School, is a guest lecturer at a number of law schools, and presents regularly.

Lisa DeMarco
Nico has more than 25 years of environmental counseling and litigation experience, including more than 15 years with climate change issues. His climate practice encompasses California's Cap-and-Trade Program (compliance counseling, rulemaking advocacy, enforcement proceedings, litigation and emission trading contracts) and other aspects of AB 32, as well as related state, federal and international programs. His climate finance practice includes handling complex offset transactions in the voluntary carbon market, both in the US and internationally, market advice, and ESG counseling (environmental, social and governance risks and opportunities).

Nico van Aelstyn
---
In Memoriam

Chandan Kumar was the first Chief Economist and a founding member of the cCarbon.info team. He built and operated some of the first supply-demand and price forecasting models for the WCI market. With just a single year of program data, he achieved market leading model accuracy of 99.7% in forecasting California's 2014 emissions. The continued and remarkable accuracy of his carbon modelling over the years led Chandan into somewhat of a celebrity status at industry events across North America. Although, on these trips, this professional acclaim was far less interesting for Chandan than experiencing the best of North America, and learning the stories of its people.

On May 5th, 2021, Chandan left this world far too soon after suffering in hospital with COVID. Condolences were received from around the carbon world, many mentioning Chandan's irresistible charm and ability to connect with people. He had evolved with ClimateConnect into a fantastic leader and listener. All those who had worked with him knew how they had lost a mentor and a trusted friend, rather than a manager or a colleague.

His legacy will live on, both in the memories and stories shared by those who knew him, but also in a collection after his death. This was set up into the Chandan Kumar Memorial Fund, which has supported young Indian scholars into their study of environmental economics.

Chandan, in part for your immeasurable contributions to CC.info, but more for what you brought to all our lives, we thank you and will forever remember you.
---
Sustainability and analytics team
cCarbon is a product of cKinetics, a global sustainability specialist. The extended team provides access to specialists in the following areas:
Climate analytics

ESG risk assessment

Life cycle analysis